ingredient benefits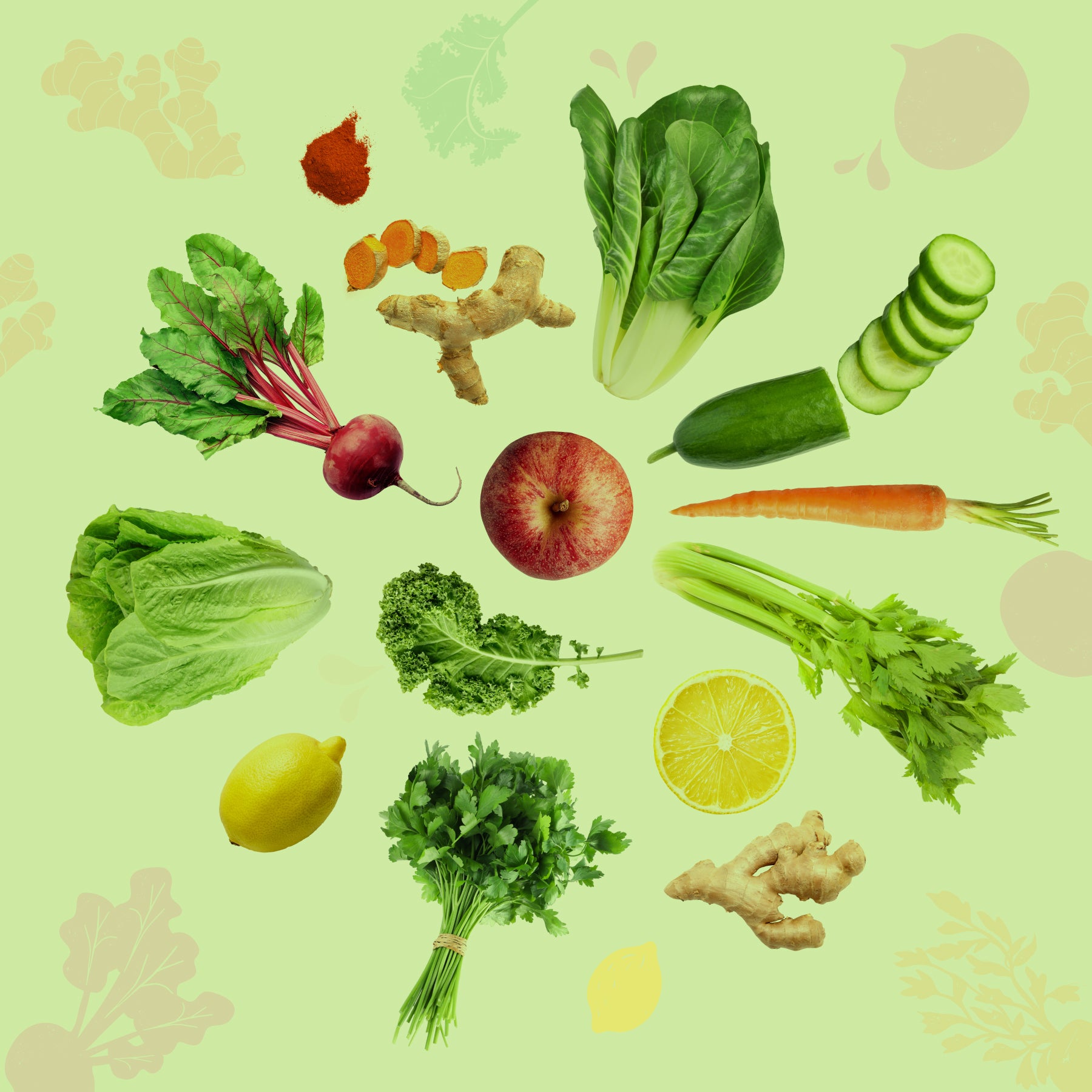 Cayenne Pepper
Packed with plant compounds, supports healthy metabolism, lowers blood sugar.
Turmeric
Anti-inflammatory, great the antioxidant, brain boosting neurotrophic factor
Beets
Great pre-workout, supports liver health, supports healthy blood pressure.
Kale
Packed with Vitamin A, C & K, loaded with antioxidants, supports heart health.
Parsley
Rich in antioxidants, supports bone health, high in plant based iron.
Romaine
Great source of antioxidants, high in folate, Vitamin A & K
Lemon
High in Vitamin C, helps prevent kidney stones, improves digestive health
Ginger
Anti-inflammatory, supports digestive health, helps lower cholesterol.
Carrots
Very high in Vitamin A, lowers blood pressure, supports eye health.
Celery
Great source of antioxidants, reduces inflammation, supports digestion.
Swiss Chard
Packed with lots of antioxidants, high in Vitamin A, C & K!
Cucumber
Great source of antioxidants, promotes hydration, lowers blood sugar.
Customer Reviews
Not too bitter not too sweet just right
if you are like myself (or my girl Goldilocks) and find some cold pressed juices are too bitter (think liquid salad without dressing) or too sweet (think grape juice) then you will like "green with envy". I have tried all of the flavors from MWJ and this one is my favorite! It has a great balance of veggies and fruit to make it enjoyable time and time again. It is great post-workout or as a "snack" during your undereating phase in an intermittent fast. Try them all but I know you can't go wrong with this one.
10/15/2021
Dr. Eman Jarouche
So fresh
I love the cucumber flavor in this drink! It's fresh and flavorful! The intensity of the color reminds me how beneficial this is to my body while keeping me hydrated! After a long work out, I'd hate to have added sugar, so this is a great go to!